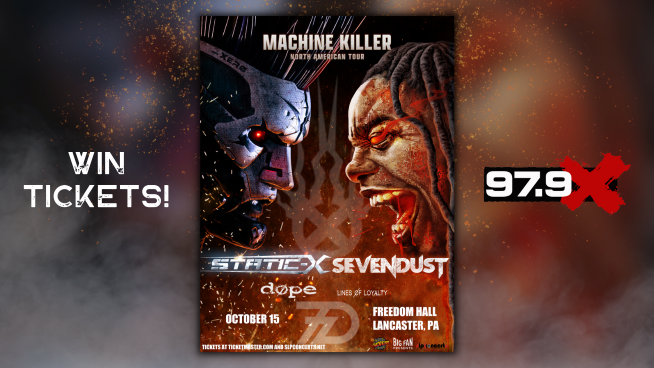 STATIC-X & SEVENDUST
OCT 15TH | FREEDOM HALL
Over three decades and numerous albums, industrial metal scene leaders Static-X are consummate survivors. Even after the untimely death of lead singer Wayne Static in 2014, the group has regenerated and continued to record new music while honoring the late frontman's legacy. Unlike their more straightforward '90s nu-metal counterparts, Static-X were heavily influenced by house music, blending influences like Pantera with the electronic stylings of Prodigy and the Crystal Method to define their sound.
Static-X were originally formed in 1994 after Wayne Static's former band, Deep Blue Dream (featuring a pre-Smashing Pumpkins Billy Corgan), broke up. Along with drummer Ken Jay and guitarist Emerson Swinford, Static relocated from Chicago to Los Angeles and the trio formed a band called DRILL. Swinford left the band and was replaced by Koichi Fukuda, and Static-X was born.
The band's first album came out in 1999 at the height of the nu-metal era. Wisconsin Death Trip contained the singles "Push It," "I'm With Stupid" and "Bled For Days." They played Ozzfest to support the album and released an EP, The Death Trip Continues, the following year.
Fukuda departed Static-X soon after, and in 2001 the band released their sophomore effort: Machine. The following year, Wayne Static's vocals were featured on the Queen Of The Damned: Music From the Motion Picture soundtrack ("Not Meant For Me," written by Korn's Jonathan Davis). Jay left the band shortly after, and in 2003 Static-X's third album, Shadow Zone, was released, featuring "The Only" and "So" as singles. Replacing Jay was former Seether drummer Nick Oshiro.
In 2004, Static-X released Beneath… Between… Beyond…, a collection of rarities and demos. The band released their fourth album, Start A War, in 2005 with "I'm the One" and "Dirthouse" released as singles. In 2007, Static-X shared a fifth album, Cannibal, which had music ("No Submission") featured on the Saw III soundtrack. Also in 2007, the band shared their exclusive Destroyer EP and toured on Ozzfest once more.
In 2009, the band released their fifth album, Cult Of Static. The album single "Lunatic" appeared on the soundtrack to Marvel's Punisher: War Zone. Oshiro left Static-X around this time and was replaced by touring drummer Will Hunt.
By the 2010s, the members of Static-X had split off to concentrate on separate projects, and Static toured with a solo band under the Static-X name. In 2013, the band announced that they were officially breaking up, though Static continued to play the band's material on tour as a solo act. In 2014, Static died at 48 ostensibly due to a long history of substance abuse, though officially his death was termed a natural one.
A few years after Static's death, the former band members reunited and began to parse through old unreleased demos. Composing new songs from that material resulted in Project Regeneration, which came out in two volumes, the first of which dropped in summer 2020. To support the album, the newly reformed Static-X toured with a new, masked frontman named "Xer0," who was rumored to be Edsel Dope of Dope. The band also released a single, "Hollow," which peaked in the Top 15 in the U.S. Dance/Electronic chart.

Official Rules for 5 O'Clock Block (STATICX – SEVENDUST) 9-18 to 9-22