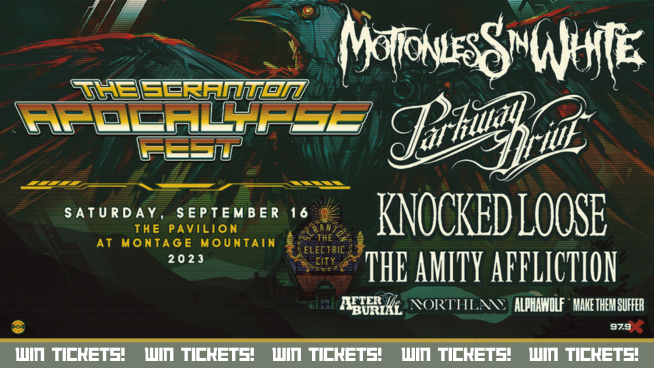 THE SCRANTON APOCALYPSE FEST
SEPT 16TH | THE PAVILION AT MONTAGE MOUNTAIN
The Scranton Apocalypse Fest is coming to Montage Mountain on September 16th! We're talking this stellar lineup: Motionless in White, Parkway Drive, Knocked Loose, The Amity Affliction, After the Burial, Northlane, Alpha Wolf and Make Them Suffer.
MOTIONLESS IN WHITE
Motionless In White are one of the most exhilarating bands to rise to fame in recent years, taking the metalcore world by storm with their unique offering to the genre. The band's latest album, Graveyard Shift, was released earlier this year by Roadrunner Records and features the hard and fast anthems "Loud (F*ck it), "Rats" and an appearance by Jonathan Davis of Korn on the track "Necessary Evil".
Headed by frontman, Chris 'Motionless' Cerulli, Motionless In White came out swinging from Pennsylvania in 2005. Their first album, Creatures swiftly gained the attention of the metal community and was followed up by the hugely popular Infamous in 2012. High on the momentum of their success (and a few line-up changes), Reincarnate was unleashed and gained the #1 spot on Billboard's Top Rock Albums Chart. Their fourth full-length album and first for Roadrunner Records, Graveyard Shift continues to show the world why they are the most gut-punching, electrifying metal acts to date.
Joining Motionless In White are Texas metalcore quartet, CROWN THE EMPIRE. The four-piece outfit skyrocketed to popularity in 2010, delivering a crescendo of down tuned guitars and electronic samples. Having already played Soundwave and the Warped Tour in Australia, Crown The Empire's return is keenly anticipated by their ecstatic fans.
Motionless In White's fast paced, heavy hitting legacy translates perfectly to their on-stage presence. After clocking up years touring on the road and sharing stages alongside Slipknot, Marilyn Manson and Korn, they have fine-tuned their sound to perfectly replicate their insanely high energy, head banging set list. With their unique guttural breakdowns, haunting melodies and devious.
PARKWAY DRIVE
Hailing from the hippie-loving, beachfront town of Byron Bay, Australia, metalcore outfit Parkway Drive blasted out of their serene surroundings touting a volatile blend of intricate metal riffing, punishing breakdowns, and hardcore's emotional tension. Named after a rural countryside road, the band was formed in summer 2003 by vocalist Winston McCall, guitarists Luke Kilpatrick and Jeff Ling, drummer Ben Gordon, and bassist Jia O'Connor. The five-piece outfit split an EP with like-minded countrymen I Killed the Prom Queen that same year, and later appeared on the local hardcore compilation What We've Built. This activity preceded the May 2005 release of Parkway Drive's debut EP, Don't Close Your Eyes, on the Sydney-based Resist Records. Parkway Drive continued building a respected name for themselves in the Australian hardcore scene, often opening for Bleeding Through, Shadows Fall, Every Time I Die, Hatebreed, and other American bands who were touring abroad. When the time came to do something traveling of their own, Parkway Drive journeyed to Massachusetts to record their inaugural full-length with Killswitch Engage's Adam Dutkiewicz. Recorded over a two-week period in 2005, Killing with a Smile entered the Australian Independent Chart at number two upon its February 2006 release. The debut album sold extremely well across the country and later saw a North American release through Epitaph Records, which issued the album in August. For the band's sophomore effort, Parkway Drive again traveled to Massachusetts to reprise their successful partnership with producer Dutkiewicz. The metallic Horizons emerged from those recording sessions, and Epitaph released the record in October 2006. In 2010, the band came back with their third full-length effort, Deep Blue. ~ Corey Apar & Andrew Leahey, Rovi

 Official Rules for Win MIW Tickets 5-8 to 5-12