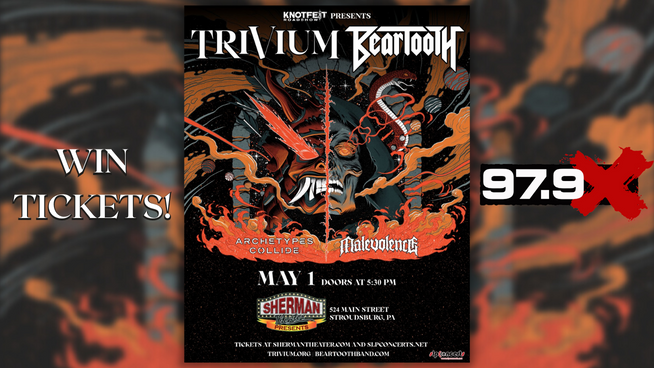 TRIVIUM & BEARTOOTH
MAY 1ST | SHERMAN THEATER
TRIVIUM
Driving guitar solos and throbbing rhythms make up the heavy metal produced by Orlando-based metalcore outfit Trivium. Since their start in 2000, the four-member band has sold more than a million albums and toured alongside other big-ticket metal acts like Iron Maiden, As I Lay Dying and GWAR, bringing fans at venues like Fillmore (Detroit), the Buckhead Theatre and Aztec Theatre to capacity.
Their most recent effort, "Vengeance Falls," surfaced in October 2013 and landed at No. 15 on The Billboard 200, as well as in the Top 10 on Japanese and Australian album charts. Along with a discography of six full-length records and a healthy U.S. tour history, Trivium has also handled concerts throughout Europe, Japan and Australia.
For the 2006 collection "The Crusade," Trivium frontman Matt Heafy took a slight departure from his metalcore scream to deliver more traditional singing vocals that some compared to Metallica. That album debuted at No. 25 on The Billboard 200, and Heafy went back to his signature scream for the follow-up, 2008's "Shogun," and subsequent releases.
BEARTOOTH
Beartooth, the hardcore punk band of former Attack Attack! frontman Caleb Shomo, is quickly climbing the ranks with their scream-along anthems and showstopping performances. Shomo cuts an energetic figure on stage, jumping around to tracks like "I Have a Problem" and "Beaten In Lips" while the band's guitarists crowdsurf through the audience. An up-and-coming act who've already proven their performance chops on the Vans Warped Tour, Beartooth have ticket buyers eagerly awaiting the opportunity to headbang along to all their favorites on the band's upcoming dates.
Columbus, OH-based punk band Beartooth was formed in 2012 by singer Caleb Shomo after his previous project Attack Attack! disbanded. Shomo wrote, produced, and played all the instruments on the project's 2013 debut EP Sick, recruiting a band afterwards for future recording and touring. The new lineup released their full-length debut album Disgusting in 2014 to critical and commercial success, landing at No. 6 on the US Hard Rock Albums chart and placing within the Top 20 on several other charts. An electrifying live act, Beartooth thrilled fans with the announcement that they would play the entire Vans Warped Tour 2014.

Official Rules for 5 O'Clock Block (TRIVIUM-BEARTOOTH) 3-13 to 3-17