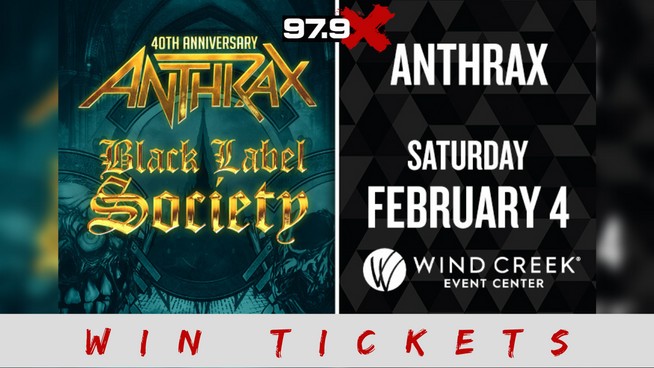 ANTHRAX & BLACK LABEL SOCIETY
FEBRUARY 4TH | WIND CREEK EVENT CENTER
For 30 years Anthrax has been bringing the noise and treating ticket buyers to aggressive, fist-pumping music. Blistering guitars and double-pedal drums are only the beginning. Anthrax combines elements of punk, funk, hardcore and rap into their sound, and its stage presence on tour is more frat party run amuck and less fire and brimstone metal. The band's use of humor sets them apart from their contemporaries as Scott Ian, typically dressed for an Anthrax concert in shorts and t-shirt, looks like he should be on a surfboard or at the skate park. Their newest LP Worship Music was released in 2011 debuted at No. 12 on the Billboard 200.
Anthrax's story began in 1981, when the guitarist Scott Ian and then bassist Danny Lilker looked through a biology textbook in search of a moniker for their New York City thrash-metal band. Classic 1980s albums Fistful of Metal and Spreading the Disease cemented Anthrax's signature stomp and crush sound, churning up mosh pits and sending waves of concert goers into a head-banging frenzy. Anthrax's biggest crossover hit is "Bring the Noise," a 1991 collaboration with Pubic Enemy. Not only did this metal/rap hybrid get serious airtime on MTV, but it is also credited for being a genre-defining moment in music and setting the groundwork for a genre known as "nu metal." Artists are still giving a shout out to the seminal song; this is best illustrated in M.I.A.'s new album "Matangi," which has a song tilted "Bring the Noize." The crossover hit from the 1990s is still crossing over today — and the band is still as great as they've ever been.
Lazy E has your chance to WIN a pair of tickets each afternoon this week during the 5 O'Clock Block!

Official Rules for 5 O'Clock Block (ANTHRAX) 11-14 to 11-18