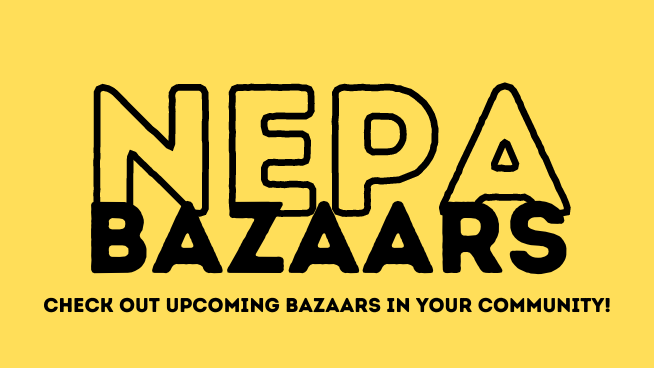 Bazaars of NEPA
Ss. Anthony and Rocco Italian Festival, Aug. 13-14, 5 p.m.; Aug. 15, following noon Mass; St. Rocco's Church, 122 Kurtz St., Dunmore. Food, games and more. Fireworks, Sunday, 9 p.m. Entertainment: Friday, Dunmore High School band and cheerleaders and Picture Perfect; Saturday, Holy Cross High School cheerleaders and Popstar Drive; Sunday, Jim Cullen, Jack Bordo and Sharon Ambrozia, The Luongo Brothers Band.

 

Most Precious Blood Parish Feast of La Madonna del Monte, Aug. 13-15; 131 E. Fourth St., Hazleton. Bake sale, tricky trays and calendar lottery. Festival food nights, Friday and Saturday, 5 to 9 p.m. Takeout pasta and meatball dinner, 11 a.m. to 3 p.m. Sunday.

 

St. Ann Basilica Parish Car Show and Chicken Barbecue, Aug. 15, 1233 St. Ann St., Scranton. Car show, 9 a.m. to 4 p.m. Barbecue, noon to 4 p.m., takeout only. Prior purchase of BBQ tickets is required.

 

St. Boniface Parish Carnival, Sept. 9-11; church grounds, 326 Washington Blvd., Williamsport. Food, rides, games, bingo, raffle and white elephant sale.

 

St. John Bosco Church Fall Fling, Sept. 18, 7 a.m. to 3 p.m.; parish gym, state Route 93, Conyngham. Gigantic flea market and homemade food sale.

 

St. Jude Parish Annual Picnic in the Grove, Aug. 14, 4 to 10 p.m.; Aug. 15, noon to 8 p.m.; 420 S. Mountain Blvd., Wright Twp. Traditional picnic favorites, desserts, theme basket raffle. Chicken barbecue dinner starting noon Sunday. Entertainment: Saturday, 6 to 9 p.m., Chester Street; Sunday, 2 to 9 p.m., 2Rockaholix.

 

Plymouth Alive Kielbasa Festival, Aug. 13-14; Main Street, Plymouth. Food, vendors, kielbasa contest, live entertainment.

 

Pittston Tomato Festival, Aug. 19-22; downtown Pittston. Thursday, 5 to 10 p.m.; Friday, 5 to 11 p.m.; Saturday, 11 a.m. to 11 p.m.; Sunday, 11 a.m. to 9 p.m. Food, vendors, live entertainment.