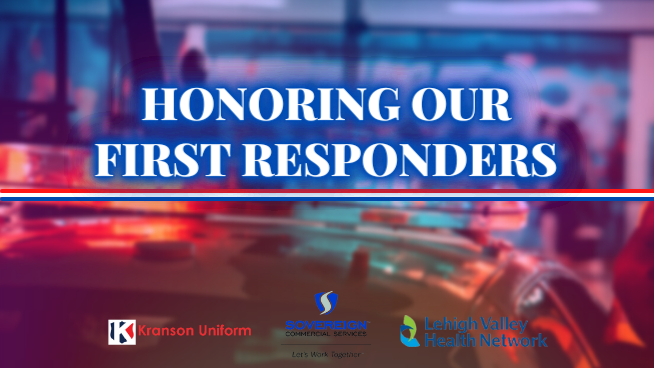 We want to say THANK YOU to our area's first responders!
Thank you to our healthcare professionals, firefighters, police officers, EMTs, and so many more… We appreciate all of you each and every day. That's why we're going to celebrate YOU, and we want all of NEPA to hear.
Tell us about your local heroes below: Why are you nominating these men and women? Do you see the hard work they put in everyday? Did they save YOUR life? We want listeners to tell the area how great our first responders are.
Nominate your hero at the link below and check back each month to see our latest honoree!

Thank you to our November First Responder:
Chief Harry Knorr, Nescopeck Fire Company
Nominated by: Heidi Albertson
"Hello my name is Harry Knorr. I am 46 years old. I started in the fire service when I was 14 years old as a Junior Firefighter with the Nescopeck Twp Fire Dept. In years to come I would become the youngest Assistant Chief at 18 years old in the fire department's history. I held that position under my father who was the Fire Chief for 25 years of the department. After my father's passing I wanted to follow in his footsteps and continue volunteering for numerous Fire Departments. Thats when I joined the Berwick Fire Department. I joined the Ranger Hose Co. where I worked thru the ranks and became the Chief of the company. In time I was appointed to be the Deputy Chief for the Borough of Berwick. After serving my term with the Borough of Berwick I became a member of the Nescopeck Borough Fire Department where I also worked thru the ranks and was voted to be the Chief of the company. I am currently serving as the Fire Chief of Nescopeck Borough."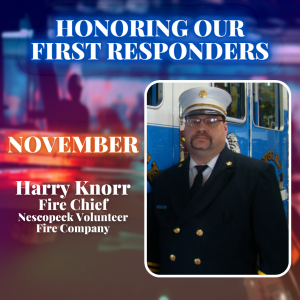 Thank YOU to all for all that you do for our community!